By: Perfecting Your Craft; Reedsy Blog
Writes faster than a speeding bullet! Words more powerful than a locomotive! Able to leap from one metaphor to the next in a single bound! It's a bird… it's a plane… no! It's Super Writer! 🚀
As great as that sounds, the truth is that writing quickly is no superpower, but a skill that takes time and practice to develop. After all, most writers struggle just getting the right words down on the page, much less speeding through them.
But don't despair — learning how to write faster may not be easy, but it willbe worth it! From essay crunch time to NaNoWriMo, there are endless scenarios in which speed-writing is an amazing asset. Follow these tips on how to write as fast as possible to start zooming through your projects… and maybe even take on that "Super Writer" alter ego after all.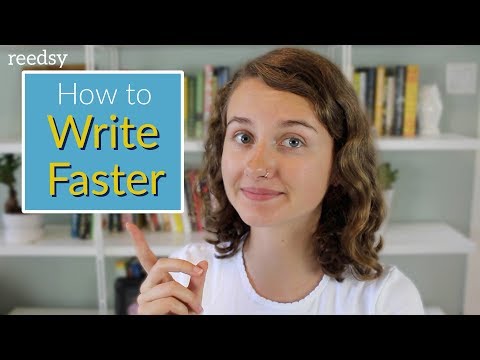 1. Know your "golden hours"
One of the first things to do is determine your productivity peaks. Every writer has a different routine and lifestyle, which means this varies hugely from person to person: some of us may enjoy a late-night creativity spike, while others prefer the crisp concentration of the early morning.
Whenever this time is for you, max it out! For example, if you know you're more focused at night, schedule as many after-dinner writing sessions as possible. Or if you work better in a kid-free environment, write when they're at school or daycare. You may have to do a bit of trial-and-error to determine your own "golden hours" and arrange your schedule around them, but you'll notice a HUGE difference in output once you do.
2. Create an outline first
Even if you're a "pantser" who typically rejects structure, outlining is a mustfor anyone who wants to increase their writing speed. Anytime you sit down to write, it's easy to become overwhelmed by the number of paths you might pursue — but an outline can rescue you by giving you a clear-cut roadmap. You don't have to plan out every single detail, but having a solid idea of the overall story arc will help you spend more time writing quickly, and less time fretting over what should happen next.
3. Set concrete goals
Most writers understand that goal-setting is important, but for those trying to write faster, it's absolutely paramount. Without deadlines, your progress will be uneven and you'll likely lose focus within weeks (if not days). So before you dive in, set challenging-yet-doable goals for yourself at regular intervals.
Don't worry; you can start off relatively easy. For example, 500 words per session is a reasonable goal for a first-timer. However, if your ultimate objective is to write faster, you should soon be pushing yourself to write 1,000 or even 2,000+ words every session.
Also remember to give yourself proportional rewards! For example, if you do a full week of writing sessions at 500 words/session, you might buy yourself a new book. But when you do your first full week of 2,000 words/session, treat yourself to a nice dinner or tickets to a show — whatever keeps you motivated.
4. Don't stop to edit
Our next tip is for all you perfectionists out there: don't stop to edit.There's no greater productivity killer when trying to write — not only does editing interrupt your creative "flow," but it's also just unnecessary. After all, you're going to edit your book when you're done, right? Why worry about it now, when you can always change things later?
Of course, this is way easier said than done. So here's a more realistic proposal: you can edit typos and simple turns of phrase, but try not to spend more than 10 seconds on any correction. Any more and you'll break your own rhythm and have to force yourself back into focus mode, which is (needless to say) counterproductive to fast writing.